The past is prologue
Our fundraising events and
an active program of lectures
attract hundreds of garden supporters.
On September 24, 2016, Donald Pell told local gardeners how to "Embrace the Regional Landscape." Pell, who is known for creating immersive gardens that evoke the inherent beauty of regional landscapes, attracted a large crowd of 69 attendees at the South Coastal Library. He posed with DBG Director of Horticulture Gregg Tepper and gardeners Barbara Peters, Jean Sewald, and Lisa Arni.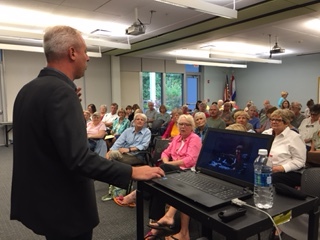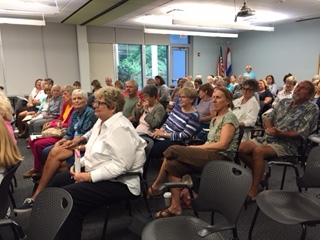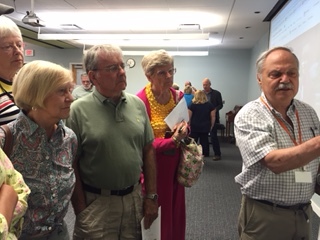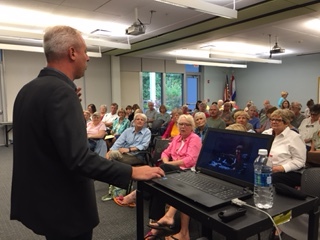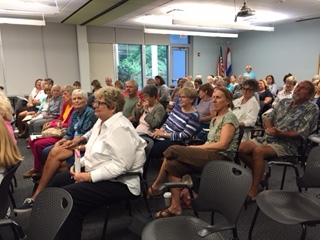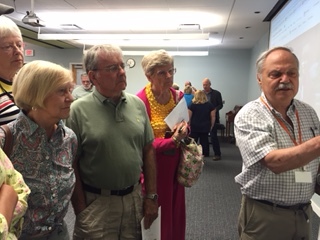 The annual Good Earth Market Farm Dinner to benefit the Delaware Botanic Gardens, held this year on September 15, 2016, went over the top: The two hundred guests, including First Lady Carla Markell, doubled the $10,000 challenge offered by Chuck Coltman. This feat in turn put DBG over the top in its 2-to-1 match of a $250,000 grant from the Longwood Foundation. Photographs © Ken Arni.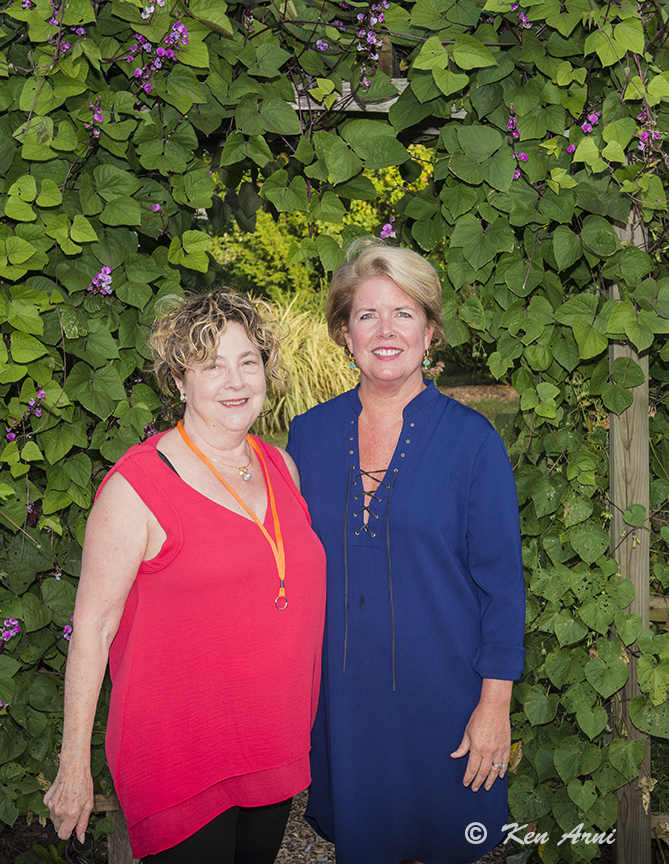 Below are photographs from our April 30, 2016, fundraiser at the North Bethany oceanfront home of Chuck Coltman. Thanks to all who are helping our garden grow. Photographs courtesy Ann-Margaret Donato for Good Earth Market and Organic Farm as well as Krista Valliant for Taste Events and John Boggan of DC Tropics.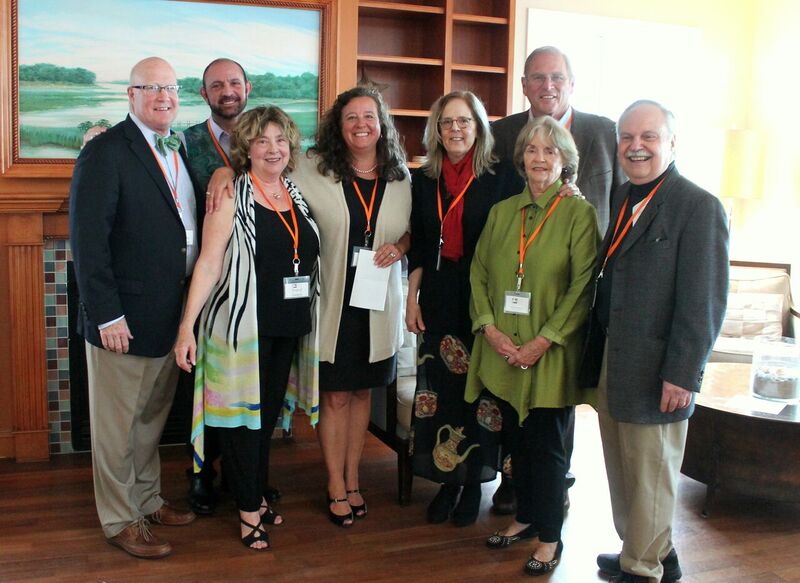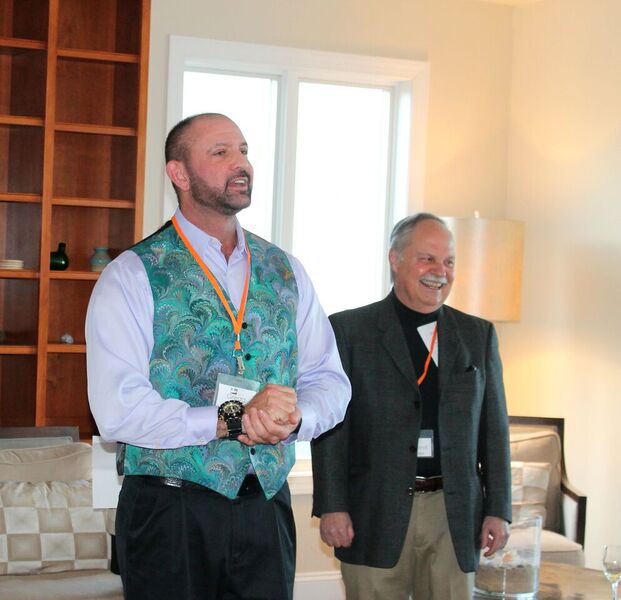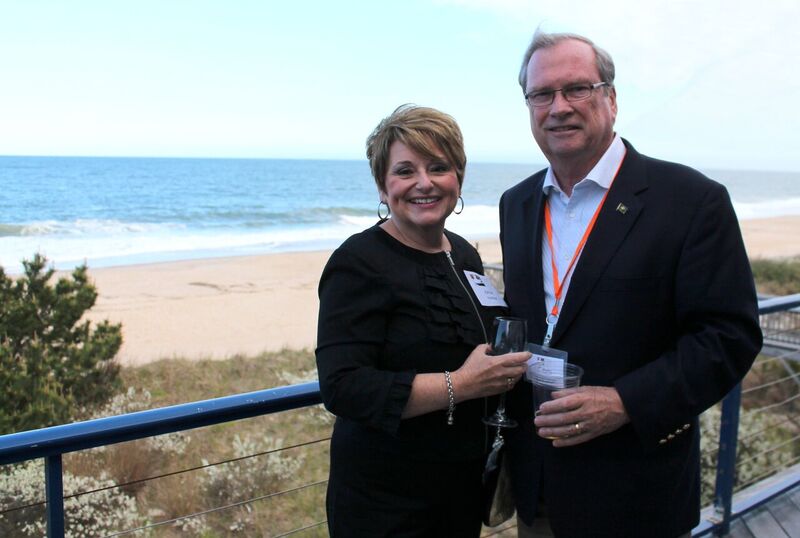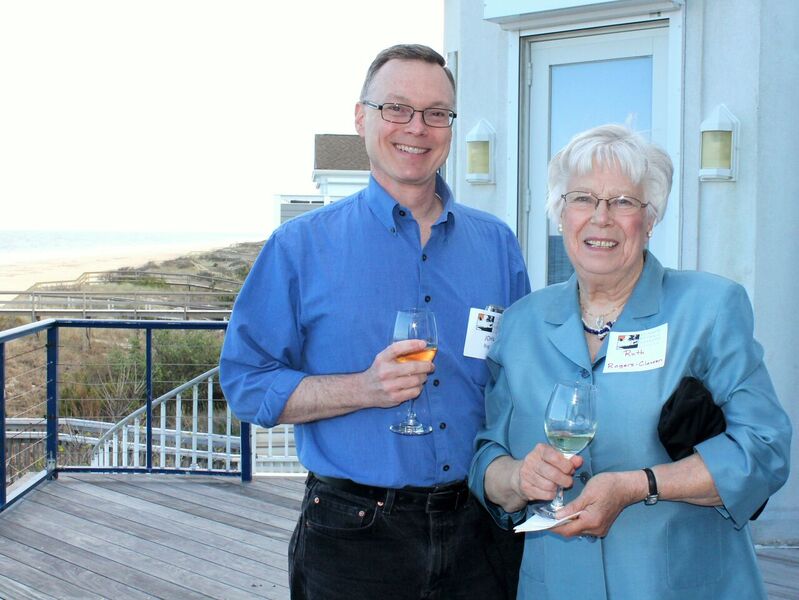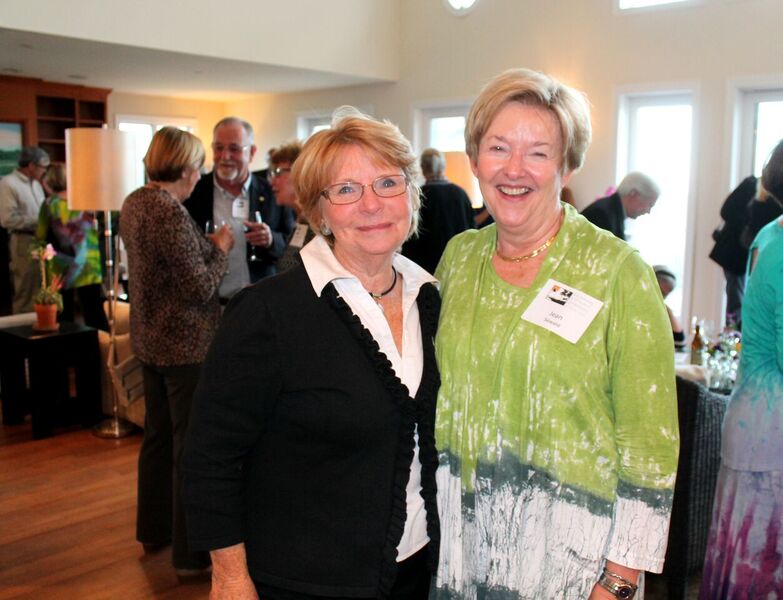 Some previous speakers, from left to right by row: Wallace Pill, Jack Gallagher,
Rodney Robinson, Michael Zajic, Jay Townsend, Lenny Wilson,
Susan Barton, Valery Cordrey, Casey Sclar, and Douglas Tallamy.
Delicious and nutritious microgreens for pleasure or profit
Wallace Pill
Microgreens are shoots of leafy vegetables that are harvested at the seedling stage for use in salads or garnishes. These tasty and nutritious shoots vary from purple to red to yellow to green. Covered were how to produce microgreens in the home or for commercial profit and all aspects of production, including seed selection, cultural system (solid substrate or hydroponics), irrigation and fertilization, and harvesting and packaging. Production of herbs and edible flowers was also addressed.
Dr. Wallace Pill is professor emeritus from the Department of Plant and Soil Sciences at the University of Delaware, where he taught horticulture courses (Turf Establishment and Maintenance; Greenhouse Management) and a graduate-level course (Plant and Soil Water Relations), and conducted research primarily on soil-less substrates and seed technology.
Partnering with salt marsh plants to solve sea-level rise problems in the uplands
Jack Gallagher
There are several challenges in the coastal zone. One is that the burgeoning human population is creating more demand for food, feed, fuel, and freshwater. A second challenge is coping with the consequences of climate change (rising sea level, weather patterns, and impacts on aquifers). Traits that coastal plants have acquired through their evolution can help solve climate-change problems in the coastal zone.
Jack Gallagher was professor of marine biosciences for thirty-two years at the University of Delaware and continues to pursue his passion for understanding the internal functioning of ecotonal marshes and their interaction with the uplands and estuaries. His current work in the laboratory is focused on the development of salt marsh plants for sustainable agriculture in the uplands surrounding Delaware Bay and elsewhere that have been salinized by increased tidal flooding.
Practical home landscaping: Old school to new school
Rodney Robinson
Interest in ornamental gardening has expanded enormously in our lifetime. Whether planting the suburban yard or tending a rooftop garden in the city, each year seems to bring greater varieties of plants, new products to use, and more sources of information. Some advance the art of horticulture, and some do not. Home landscaping can be more fulfilling.
Rodney Robinson, FASLA, PLA, is principal of Rodney Robinson Landscape Architects in Wilmington and a member of the Delaware Botanic Gardens Advisory Council. He has been practicing landscape architecture for more than thirty-five years. His firm is primarily recognized for its work with private gardens, botanical gardens, and historic landscape restoration. His practice has taken him from Florida to Nantucket and west to Chicago. Regional projects have included the United States Botanic Garden Conservatory in Washington, D.C., restoration of the Nemours gardens in Wilmington, and new gardens for Woodburn, the governor's residence in Dover.
Best spring flowering bulbs and fall gardening tips
Michael Zajic
Fall is the best time of year for planting most woody plants and lawns, dividing perennials, and planting spring flowering bulbs. These can be a lifetime investment in having a wonderful late winter and spring garden show. Information was given on how to avoid pitfalls, the best way to accomplish these tasks, and the best choices for acquiring bulbs, and renovating lawns.
Michael Zajic, founding president of the Delaware Botanic Gardens, was horticultural supervisor for Brookside Gardens in Wheaton, Maryland, for twenty-three years. He also designed several important gardens in the region, and his personal garden was nationally publicized. Recently retired to Red Mill Pond with his wife, Mike has written on gardening and taught scores of horticultural and gardening classes.
Trees: Amenity or necessity in the twenty-first century?
Jay Townsend
Sprawling subdivisions, planned urban development, skyscrapers, interstates, corporate agriculture—do we really need trees in this brave new world? The discipline that considers this question is urban forestry. Researchers have calculated the physical contributions trees make to our well-being in urban environments, along with their monetary value. Trees contribute many times their installation and maintenance costs in physical benefits. Psychological benefits are more difficult to monetize but have an equal or greater impact on our lives. Not all trees are equal in their contribution to the urban environment.
Jay Townsend worked for the Davey Tree Expert Company in Hawaii for two years and then moved into management in the San Francisco Bay Area. After completing the University of Delaware's Longwood Program in public horticulture in 1979, he returned to the Davey Company and opened the Brandywine office of the company, which he managed for twenty-five years. Jay later returned to UD to pursue a doctoral degree, researching the psychological impact of tree canopy on city dwellers.
An overview of the Delaware Center for Horticulture and oddly native and underused plants
Lenny Wilson
After an overview of the Delaware Center for Horticulture, Lenny Wilson presented his role as president of the board of directors of the Friends of the Goodstay Gardens, followed by a discussion of oddly native and underused plants for gardens, parks, traffic medians, and other public landscape applications.
Lenny Wilson began his horticultural pursuits in Wilmington, working in estate gardens for a local landscape designer. In 1992 he worked with the grounds department at Swarthmore College as garden manager, assisting with the development of several new gardens at the Scott Arboretum. In 1999 he joined the staff of the Delaware Center for Horticulture, which is dedicated to improving the quality of life in Delaware's diverse communities through horticulture, and is now associate director of horticulture and facilities. In this role he manages the center's headquarters and gardens, and oversees several elements of its main fundraising event, the Rare Plant Auction.
Lessons from the roadside: Sustainable landscaping in your back yard
Susan Barton
Methods for incorporating sustainable landscape design and management into a home landscape can be learned by using lessons from roadside vegetation projects along Delaware's roadsides and local efforts such as water management plantings in South Bethany.
Susan Barton, Ph.D., is an extension specialist and associate professor in the Plant and Soil Sciences Department of the University of Delaware with experience in the Enhancing Delaware Highways project for more than ten years. She has worked closely for the past dozen years with DelDOT to research and implement new roadside vegetation management strategies. She has also worked with partners to develop the Plants for a Livable Delaware Program, designed to provide alternatives to known invasive plants species and to promote sustainable landscaping.
Exciting new plants and underused plants
Valery Cordrey
This program highlighted the latest plant varieties from breeders around the world and underused plants that work in the home interior and landscape. The latest trends in food markets, research and development, and technology all work together to present an exciting future.
Valery Cordrey, an active Master Gardener, is an owner of East Coast Garden Center, RSC Landscaping, the Cordrey Center, the Mary Jane and Richard Cordrey Enrichment Center, and the Secret Garden. She also works closely with Cordrey Charities and promotes gardening to people all ages. Valery, who has a bachelor of science degree in business from the University of Delaware, shares her passion through the radio show "The Potting Shed."
Why public gardens are indispensable
Casey Sclar
Public gardens large and small make indispensable contributions to the communities they serve. More than just beautifully designed, pleasant places to visit, today they represent vital sources of education, conservation awareness, and economic prosperity. Using examples from gardens of all sizes and missions, Casey Sclar combined practical take-home tidbits with a greater vision of how all gardens, and in particular the one coming to Pepper Creek, will shape the future.
Appointed in 2012, Casey is the executive director of the American Public Gardens Association. He and his team support more than 585 gardens and their 9,000+ allied members located throughout America and fourteen countries. Collectively these gardens reach some 70 million people per year and help realize APGA's vision: "A world where public gardens are indispensable." Casey's work experience in horticulture spans almost three decades. He previously served fifteen years at Longwood Gardens in Kennett Square, Pennsylvania, directing sustainability programs. An author and a speaker, he holds a bachelor of science degree in horticulture from California Polytechnic State University, as well as a master's degree and a Ph.D. in entomology from Colorado State University. In 2011 he received the APGA's Professional Citation Award for outstanding achievements in public horticulture.
Bringing nature home
Douglas Tallamy
Yards and gardens are part of the terrestrial ecosystems that sustain humans and the life around us, so it is essential that we keep them in good working order. Dr. Douglas Tallamy discussed the ecological roles of plants in our landscapes, emphasizing the benefits of designing landscapes with these roles in mind and exploring the consequences of failing to do so.
Professor Tallamy chairs the Department of Entomology and Wildlife Ecology, University of Delaware, and is director of its Center for Managed Ecosystems. His major research goal is to understand better the many ways insects interact with plants and how these ways influence the diversity of animal communities. His award-winning book is Bringing Nature Home: How Native Plants Sustain Wildlife in Our Gardens. He is also a member of the DBG Advisory Council.
Banner photograph: Attendees learn about gardening issues from Carrie Murphy at a Delaware Botanic Gardens lecture held at the Lewes Public Library. Photograph by Ptery Iris