10th Annual Farm Dinner Planned for You
Join us as we gather for the Good Earth Market & Organic Farm's 10th annual farm-to-table dinner — a major fundraiser for Delaware Botanic Gardens. Enjoy the evening in a beautiful open-air setting, sipping wine while dining in view of the fields where your food is grown.
New for This Year – America's Native Spirit for Delaware's Native Garden
Banks Wine and Spirits, one of DBG's most loyal and generous supporters, is offering a new feature during this year's Farm Dinner. Ted Banks will host a great Bourbon Tasting event featuring four single barrel bourbons including Basil Hayden, Maker's Mark 46, Knob Creek and the Banks' personally selected private Knob Creek barrel from Kentucky. Our Farm Dinner attendees can sample these great offerings as straight or mixed during the Cocktail Hour.
Come join us as we sip Bourbon for the Botanic!!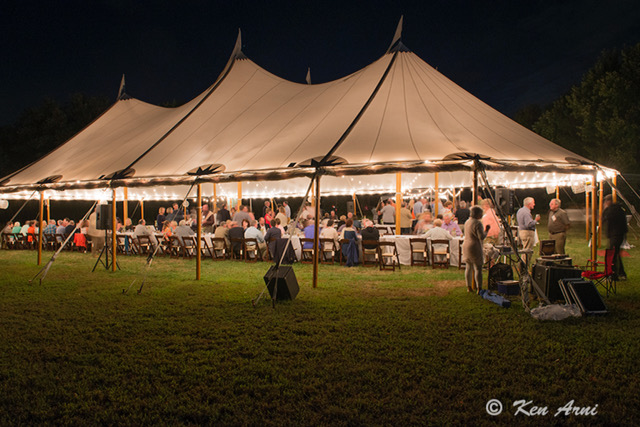 Hope to see you under the big tent!
Once again the dinner will be catered by Plate Catering of SoDel Concepts. Chef Ronnie Burkle, a member of the DBG's advisory council, has designed the menu to ensure a seasonal farm-fresh experience.
Cocktails 6:00 Passed hours d'oeuvres
Cured & Smoked Indian River Bluefish / Confit of Quail / Lionfish Ceviche /
Grilled Spanish Octopus / Grilled Chicken Sausage Biscuit
Three bars open during the cocktail hour, one serving our signature
Farm Dinner drink — Black Eyed Susan
Dinner 7:00 Family-style
SALAD
Backyard Heirloom Tomato & Late Summer Greens
Patio Basil / Farm Cheese / Fried Capers / Vidalia Onion / Oil & Vinegar
SIDES
Grilled Corn & Peach Salad
Poblano Pepper / Shave Red Lion / Patio Herbs / Honey Cider Vinaigrette
Heirloom Marble Potato Salad
Bacon / Onion / Celery / Patio Herbs / Mayo / Mustard
ENTREES
Buttermilk Fried Chicken
Secret Recipe
Delaware Crab Cake
Mustard tartar sauce/Lemon
DESSERTS
Mixed Berry Cobbler
Honey Whipped Mascarpone Cheese / Patio Peppermint

Event Sponsors to Date
PRESENTING SPONSORS BLUE LUPINE
Bancroft Construction Company
Banks Wines & Spirits
Patti Drago & Rich Weissmann
George & Lynch Inc.
Pennoni Associates, Inc.
RentAMobileMovieTheater.com
SoDel Concepts
Sussex County Counci
GENTIAN SPONSORS
Coastal Tented Events
Good Earth Market & Organic Farm
L&W Insurance
Sussex County Land Trust
SUNFLOWER SPONSORS
Baird Mandalas Brockstedt
Barefoot Gardeners Club
Ron Bass & George Robbins
Glenn & Madolyn Dallas
Faith Denault
Dogfish Head Companies
Jamie & David Doane
David & Kathy Green
Jefferson, Urian, Doane & Sterner, P.A.
Lew & Maureen Kilmer
Nicki & Vern Marten
Steve & Valerie Parsons
Jane Rice
Serendipity Quilt Shop
Sheryl Swed & Raymond Sander
BIRD'S FOOT VIOLET SPONSORS
Larry & Margaret Brain
Burke Equipment Company
Peter Carter
Jen & Scott Edmonston
Envirotech Environmental Consulting, Inc.
Fulton Bank
Minuteman Press
Yorkston Consulting
SWAMP PINK SPONSORS
Blue Skies Farm
Coastal Point
Ruth Rogers Clausen
Ruth Craig Haggerty
Salon on Central
Jane Van Remoortere

UR DINNER PARTNERS
Fine Wines provided by Banks Wines & Spirits
Beer provided by Dogfish Head Craft Brewery
Tent by Coastal Tented Events
SPECIAL ACTIVITIES
Music by Kevin Brennan
Painting by John Donato
Sharing the Delaware Botanic Gardens Master Plan
Challenge Match Appeal